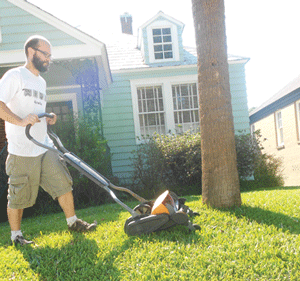 Mowing
– Weekly, bi-weekly, or one time services offered. s Some small lawns can be mowed with a reel mower if desired. Grass clippings and any leaves on the grass are mulched and left to decompose in the soil, creating a natural fertilizer.  We keep the lawn cut high which helps shade out weeds, is less traumatic for the grass and leads to slower, steadier growth.   We offer discounted rates with a 1 year service agreement and multiple payment plans.  Our rates are competitive with traditional mowing services, and also include:
Organic Lawn Treatment – We test your lawns Ph level, and adjust as necessary.  Organic fertilizer applications can be done once or throughout the season.  Weeds are spot treated with an organic non-selective herbicide.
Aeration – recommend aerating annually or bi-annually based on foot traffic and compaction levels. Aeration is a technique best applied in late summer or early fall for cool season grasses and in the spring for warm season grasses.
Hedge Trimming – Hedges on property can be trimmed regularly or as a one-time service.